A birthday to remember
"Grant Bradley remembers making eye contact, turning his back, hearing a growl, then panicking as a 350-pound Siberian tiger tackled him Saturday night at the St. Johns County Agricultural Fair."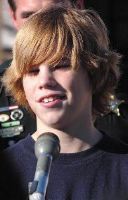 "To top it all off, Bradley was at the fair to celebrate his birthday."
More
information from the Florida Times-Union on yesterday's incident with the
Tasered Tiger
.
Labels: Critters