Zoom-Zoom
Drilling for oil in the Arctic National Wildlife Refuge (ANWR) was
finally
approved.
The Enviro-Nuts continue their caterwauling: Alaska will be destroyed, the pristine nature of ANWR will be destroyed, caribou will be destroyed, mosquitoes will be dest . . .
(The Enviro-Nuts really didn't mention mosquitoes but in the spirit of total disclosure, since I'm in Florida I'm for anything that kills 'em.)
So how much of Alaska will actually be affected by drilling in ANWR?
This is Alaska . . .

Notice the areas shown in yellow? Good.
The 'yellow' shown on the left is ANWR only. The 'yellow' on the right shown for comparison purposes only, is THE ENTIRE STATE OF SOUTH CAROLINA!
Now, let us look at ANWR itself . . .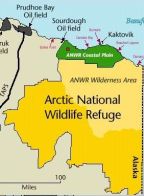 Next, please note the area shown in green. That is the part of ANWR referred to as the Coastal Plain, a more picturesque area you'll never find . . . according to the Enviro-Nuts.
Also clearly shown in the above image is the area inside the Coastal Plain where the drilling will occur.
Stop squinting. I said stop!
This should make it easier for you.
Now, look for the widdle red box. Do you see it?
Excellent!
That's the entire surface area (2000 acres or 3.13 square miles) that will be used for drilling in ANWR.
"But it's pristine!" the Enviro-Nuts squawk.
Of course, they've never been there themselves. Not that I blame 'em any. I don't 'do' hellholes, myself.
But in 2001, NRO's Jonah Goldberg
did
.
Later
: The source for the maps I used is
ANWR.org
.
~~~~~~~~~
Welcome readers coming from
Carnival of the Trackbacks
!