Disaster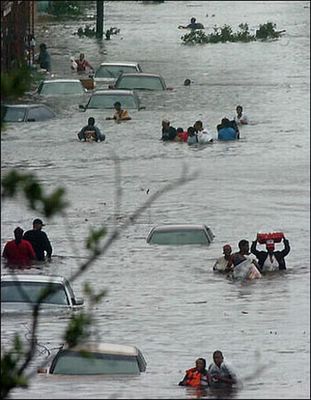 Jon Donley's blog at the Times-Picayune in New Orleans is collecting and providing information neighborhood by neighborhood, and sharing thoughts and stories sent in by its readers.

WWL-TV, also in New Orleans, is providing bare-bones reports at its new blog including one it received that there are now 60,000 people at the Superdome, and still more people are being urged to go there.

Josh Britton, who is blogging from LSU's computer center, is gathering information on relief efforts and volunteers.

CNN does a pretty decent job here of reminding its readers that New Orleans and Louisiana aren't the only areas Katrina trashed.

I get a real kick out of the damage estimates the "talking heads" and so-called experts have been tossing around. Bloomberg (no link) reported that insurers had reduced their estimates from $30 billion to somewhere between $9 to $16 billion.

And I guess the big folk in New Orleans who say their city will be up and running again within a year are making those overly-generous statements because they think it will make people feel better.

It's going to take years. And that's just New Orleans.

How do you describe what's going on there right now and what it's going to be like for quite a while?

Try this:

Think of King's city scenes in THE STAND, and add water.