I hate these things!
This is where I am on "the map" according to
this quiz
.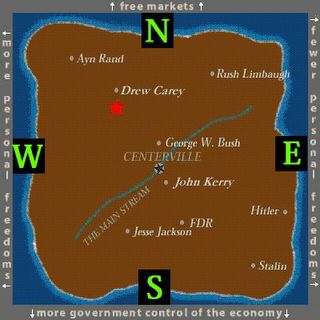 NW-You would feel most at home in the Northwest region. You advocate a large degree of economic and personal freedom. Your neighbors include folks like Ayn Rand, Jesse Ventura, Milton Friedman, and Drew Carey, and may refer to themselves as "classical liberals," "libertarians," "market liberals," "old whigs," "objectivists," "propertarians," "agorists," or "anarcho-capitalist."
Where are you?
(Via
INDC
)
And if it's Saturday (and it is) it's time for Wizbang's
Carnival of the Trackbacks!
Labels: I hate these things.